100% Remote Learning
Upskilling Teams
Speedy ROI
High Achieving Learners
Why are apprenticeships in tech so important?
Apprenticeships are the lifeblood of what we do at The Coders Guild because they embody our core values and mission. Here's why they're so crucial to us:
Bridging Skill Gaps In an industry that's ever-evolving, apprenticeships allow us to provide timely and relevant training. We equip individuals with the tools they need to meet current and future challenges in the tech world.
Driving Social Impact We are passionate about making tech careers accessible to everyone, regardless of background. Apprenticeships allow us to open doors for people from underrepresented groups and those with fewer traditional qualifications but abundant potential.
Alternative Pathways We believe that there's more than one way to build a successful career. Apprenticeships offer a practical, hands-on alternative to traditional education paths, allowing for immediate immersion into real-world job scenarios.
Community & Knowledge Sharing Apprenticeships foster an ecosystem where learning is reciprocal. Experienced staff mentor apprentices, who in turn bring fresh perspectives and enthusiasm that can invigorate a team.
Quality Assurance We've been in this field for over a decade, and our apprenticeship programmes are meticulously designed, reflecting our industry expertise. This guarantees that both employers and apprentices benefit from high-quality training and skill development.
Making the Best Use of Levy Funds For employers, our apprenticeship schemes represent a valuable opportunity to utilise levy funds wisely, ensuring the development of skilled, loyal, and highly motivated employees.
Simply put, apprenticeships are not just training programmes; they're a catalyst for change, growth, and social equality. This is why they lie at the heart of The Coders Guild's vision and operations..
Our apprenticeships are valued by Employers and Candidates!
Mark Hope
Digital Director - Access
The scheme is one of the very best. The assessment process, pre-start bootcamp and knowledgeable trainers mean we get engaged, motivated apprentices contributing to our business from day one.
Liz Leith
Service Design & Delivery Manager, Innserve
The Coders Guild are adept at putting together course content that's relevant to business in today's market, with practical tools & skills that can be implemented from day one, adding value to both your company & your continual professional development. The interactive sessions are led by industry experts, bringing the subject matter to life & allowing all course members to engage & share their experiences, which enhances the learning environment.
Our simple guide to what you need to know
Employers - What to Expect!
Have a different question and can't find the answer you're looking for? Reach out to our support team by sending us an email and we'll get back to you as soon as we can.
Effortless Onboarding

We take care of the paperwork and logistics, making it simple for you to integrate new apprentices into your team.

Bespoke Tailored Training Plans:

Our programmes are customised to align with your company's specific systems, tools, and objectives, ensuring immediate applicability.

High-Quality Talent:

Through our rigorous yet inclusive recruitment process, we find individuals with the aptitude and enthusiasm to excel in your work environment.

Skills Relevance:

Our training is designed and constantly updated by industry professionals, assuring you that your apprentices are learning the most current and relevant skills.

Team Development:

Beyond the apprentices, we offer continuous support to help your existing staff maximise the advantages of bringing apprentices into your operations.

Levy Fund Utilisation:

Make the most of your apprenticeship levy funds by investing in programmes that offer proven value for both skill development and long-term employee retention.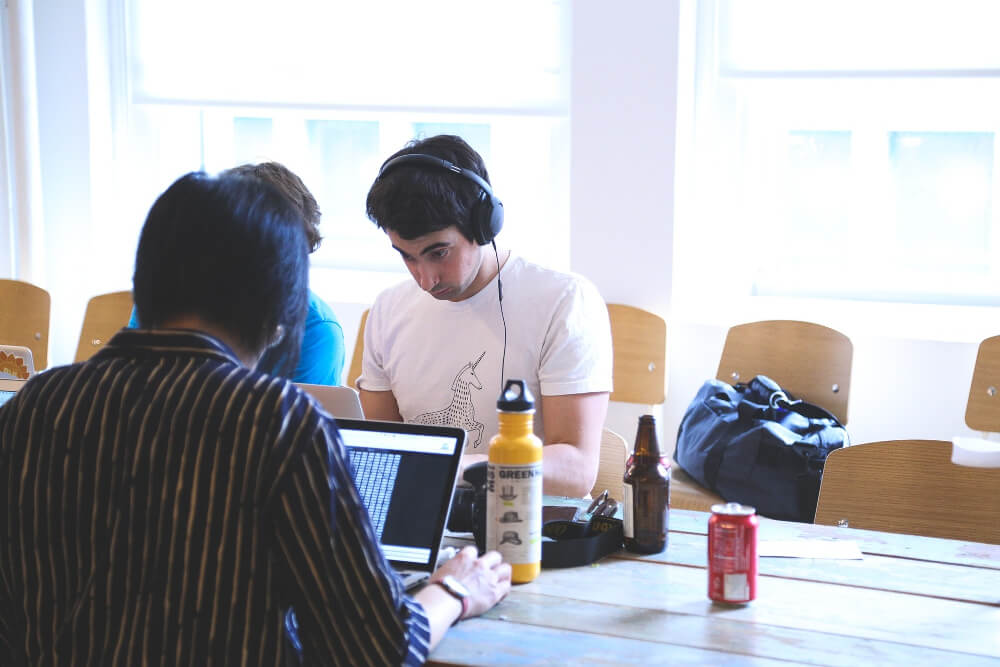 Choose The Coders Guild
By choosing The Coders Guild, you're opting for a seamless, impactful, and socially responsible approach to apprenticeships.
Speak to one of our team to find out about hiring an apprentice today!
Want to do an Apprenticeship? Here's what to Expect!
Have a different question and can't find the answer you're looking for? Reach out to our support team by sending us an email and we'll get back to you as soon as we can.
Inclusive Opportunities:

Our recruitment is based on aptitude and enthusiasm, not just formal qualifications, opening doors for a diverse range of candidates.

Industry-Relevant Training:

Learn from professionals actively working in your chosen field, ensuring your skills are up-to-date and immediately applicable.

Speedy Onboarding:

Our efficient process means you'll be actively learning and contributing in your new role as quickly as possible.

Personalised Learning Paths:

Tailored training plans are developed to meet your individual learning needs, setting you up for success from day one.

Real-World Experience:

Gain hands-on experience in an actual job role, offering invaluable insights and a significant advantage in the job market.

Supportive Environment:

We provide continuous guidance and support not just for your technical skills, but also for your overall well-being and career development.
Choose The Coders Guild
With The Coders Guild, you're not just signing up for an apprenticeship; you're embarking on a fulfilling, impactful, and future-proof career path.
Ready to make a career changing decision?
Levy FAQs
As an employer looking at Apprenticeships, you may have questions around the Apprenticeship Levy. Read on to discover what this means to you.
The Apprenticeship Levy was announced in the 2015 November Spending Review. It is essentially an additional payroll tax, set at 0.5% of an employer's annual pay bill, collected through PAYE. The levy affects all employers with a presence in the UK, from businesses to charities to schools, regardless of sector, with an annual pay bill of more than £3 million. Groups of companies under a common ownership structure will be treated as one business.
While the levy is set at 0.5% of an employer's gross annual pay bill, employers have an allowance of £15,000. So if an employer has a pay bill of £10 million, they will end up paying an annual fee of: £10 million x 0.5% - £15,000 = £35,000 The levy allowance operates on a monthly basis and accumulates throughout the year. This means you have an allowance of £1,250 a month. Any unused allowance is carried from one month to the next. The total levy amount is collected monthly by HMRC, and the funding is then made available to employers via a digital account, through which they can pay for training for apprentices. If an employer does not spend their entire levy amount on apprenticeships, then the unspent portion will be made available to other employers to spend on apprenticeships. If you are part of a group of employers, you must decide what proportion of the levy allowance each employer in the group will be entitled to. This decision must be taken at the beginning of the tax year and will be fixed for that tax year. Each employer will then calculate what they have to pay through the same processes set out above, but using their portion of the £15,000 allowance. Any apprenticeship levy payment to HMRC is an allowable deduction for Corporation Tax purposes. Your pay bill will be based on the total amount of earnings subject to National Insurance Contributions. Essentially, any person who is on your payroll and paid through PAYE is included in your pay bill. Earnings include any remuneration or profit coming from employment, such as pay, bonuses, commissions, and pension contributions that you pay National Insurance on.
The government will apply a 10% top-up to your levy account for spending on apprenticeship training in England. They apply the top-up monthly, at the same time the funds enter your digital account. So for every £1 that enters your digital account to spend on apprenticeship training, you will get £1.10. Funds (including top-ups) expire 24 months after they enter your digital account unless you spend them on apprenticeship training.
Some employers paying the levy may find that the funds in their digital account aren't enough to cover the full cost of training all the apprentices they want to employ. In order to support further apprenticeship delivery, the government will contribute 90% of the total costs of the additional delivery.
If you do not pay the levy, you won't need to use the digital apprenticeship service to pay for apprenticeship training and assessment until at least 2019. Currently, you can choose the training you'd like your apprentices to receive and an approved training provider to deliver it, and a price is then agreed with that provider. The government will make a contribution of 90% to the cost of this training.
Our Available Apprenticeships & Digital Courses
Kick-start your new career with proper training and support from industry experts. Check out our course directory. Our expertise covers a range of training options, such as coding bootcamps, courses in user experience design, and junior web development apprenticeships. We also offer workshops and immersive courses to meet all needs. Whether you're looking for a short course, a full-immersive experience or a digital skill apprenticeship, we have the perfect options to broaden your skillset and boost your job prospects.
Apply for an apprenticeship!
Other services
As experts in devising and providing technical and digital training we also provide consultancy and contract services as well as CPD events for developers and testers.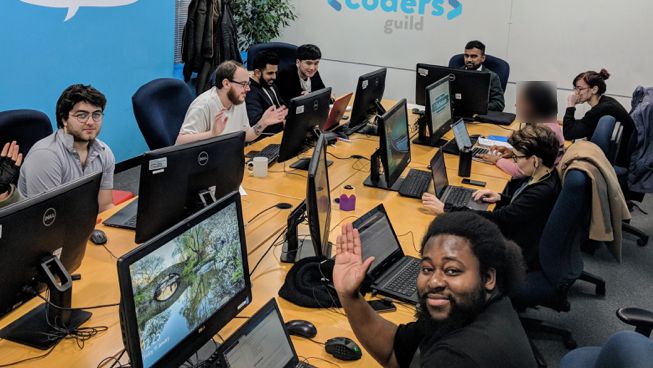 Subcontracting
Boost your success and retention rates by subcontracting technical apprenticeship training with us.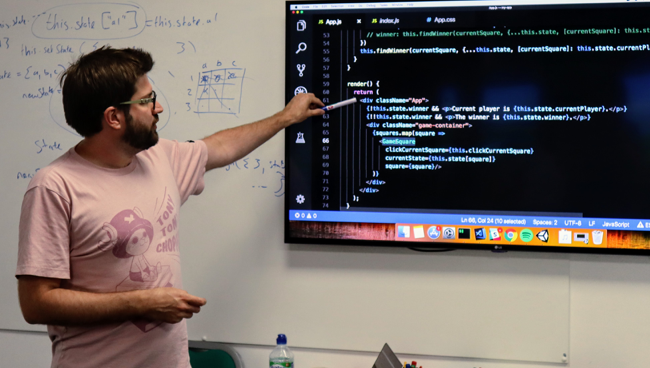 Bespoke Training
We can devise, deliver and monitor the training your team needs - classroom, remote, online or 1-1.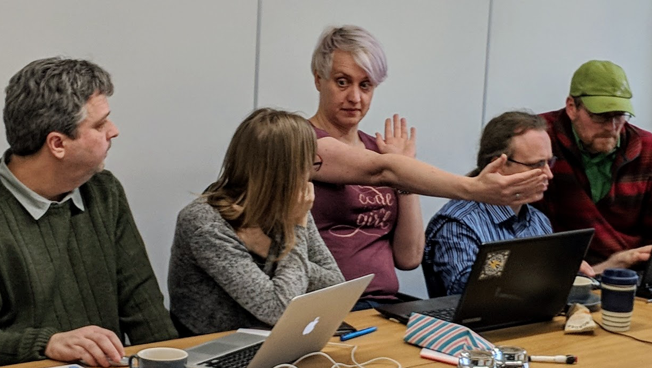 CPD and Coaching
Training events and mentoring to upskill your team in the areas they need.