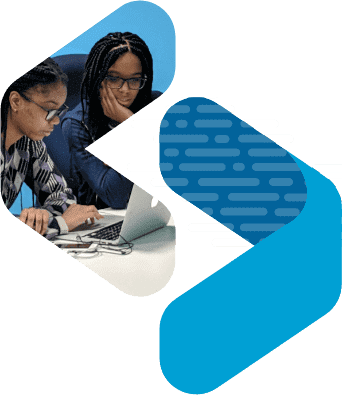 For budding developers
Upskilling professionals
SMEs and larger organisations
We are an inclusive organisation, committed to taking positive action to remove barriers to participation in learning. We support individuals by reducing discrimination and barriers to entry, resulting in increased equality and opportunities.
Tech Apprenticeships
No one knows the landscape better
We started the first industry-led digital apprenticeship back in 2012, revolutionising the way modern technical vocations are learned. Since then we've continually improved our courses and are now transferring our know-how to new areas. Our course directory covers a variety of digital areas, from web development to training in coding. We deliver professional tech apprenticeships in Leeds and Manchester, and we're the UK's leading providers of digital skills courses and bootcamps.
Digital Skills Billable within weeks
We know learning on the job is the best way to learn the skills and knowledge necessary to succeed. Our apprentices are confidently applying their skills to real-world projects in a matter of weeks.
Devised and delivered by pro developers
All our courses are devised and delivered by industry professionals; many of them experts in their field. All our web training courses and bootcamps are designed to help you acquire the perfect skills to boost your professional growth in your industry or to find new job opportunities.
If you're looking for a training provider with a real understanding of the industry.
Our Available Coding Apprenticeships & Digital Courses
Kick-start your new career with proper training and support from industry experts. Check out our course directory. Our expertise covers a range of training options, such as coding bootcamps, courses in user experience design, and junior web development apprenticeships. We also offer workshops and immersive courses to meet all needs. Whether you're looking for a short course, a full-immersive experience or a digital skill apprenticeship, we have the perfect options to broaden your skillset and boost your job prospects.
See all our apprenticeships
More coming soon
Through our training development team we are continually adding more digital apprenticeships and training programs. Stay in the loop by signing up to our mailing list to learn more about our tech courses and digital apprenticeships in Leeds and Manchester.
Join Mailing List
Employability and Tech Skills
With the impact of Covid 19 on the economy we need to upskill the workforce and secure the talent pipeline. One of the best ways to prepare yourself for a post-coronavirus-world is to acquire technology skills.
We are working with local authorities and educational organisations to equip young people and assist career changers with acquiring digital and technical skills.
Got a techy outreach project? Know of an organisation that is looking to upskill marginalised or underrepresented groups?
Get in touch - let's have a chat to see if we can help.
Other services
As experts in devising and providing technical and digital training we also provide consultancy and contract services as well as CPD events for developers and testers.
Subcontracting
Boost your success and retention rates by subcontracting technical apprenticeship training with us.
Bespoke Training
We can devise, deliver and monitor the training your team needs - classroom, remote, online or 1-1.
CPD and Coaching
Training events and mentoring to upskill your team in the areas they need.
Our Social Mission
As the leading providers of digital skills courses and training in coding, we have always been invested in our community. We partner with charities and organisations through outreach projects to have a positive impact wherever we can.
Improve diversity in tech
Remove barriers for disadvantaged or marginalised groups
Promote knowledge share
Support people
Contribute to free and open source
Our latest news
Tech Apprentices On Demand
Whether your business is looking for a software developer, software tester or UX designer, our digital skills Bootcamp graduates are ready to roll up their sleeves and bring industry-leading tech know-how to your team.
Essential Skills For Agile & Tech Careers
We are delighted to share the news that we are offering an exciting Bootcamp 100% FREE for ANYONE in West Yorkshire and North Yorkshire looking to start or progress their career in tech.